Family Holiday Show in Lake Geneva
The Dancing Horses Theatre provides the perfect event for a Family Holiday Show in Lake Geneva
The BEST Family Holiday Show in Lake Geneva
When it comes to a family holiday show in Lake Geneva, nothing tops The Dancing Horses! Home to amazing Vegas-style shows, the The Dancing Horses Theatre is a sight for all to see!
Our captivating show has its roots deeply embedded in the vision of our owner and creator, Dana Montana. With an unwavering belief in the exquisite beauty and unparalleled talent of her Arabian Horses, Dana's dream took shape over two decades ago, giving birth to the mesmerizing spectacle that is now a cherished part of our legacy.
Dana Montana's dedication to showcasing the elegance and prowess of her Arabian Horses has been the driving force behind our ongoing success. Over the years, her passion has evolved into a grand tradition, with shows held throughout the year that never fail to enchant audiences.
As we reflect on more than two decades of bringing the magic of Arabian Horses to audiences far and wide, we invite you to join us in this special event. Experience the grace, beauty, and festive joy that define our Family  Holiday Show—an event that embodies the passion and dedication that Dana Montana envisioned when she embarked on this incredible journey.
In the spirit of the holiday season, we extend a warm invitation to you and your loved ones to share in the enchantment of our show. Join us as we celebrate the harmony between human and horse, and immerse yourself in the magical world that Dana Montana has so lovingly crafted for over 20 years. Your presence will undoubtedly contribute to the magic of this occasion as we continue to honor the legacy of Dana's dream, a dream that has evolved into a spectacular reality that captivates hearts and minds alike
The Dancing Horses provides a family fun atmosphere in a state-of-the-art 300-seat theatre and is guaranteed fun for any horse lover. Finding an easy family holiday show in Lake Geneva has never been easier or more fun for everyone!
If you're interested in seeing one of our Family Holiday Shows in Lake Geneva, click the button or get in touch with us!
Buy Tickets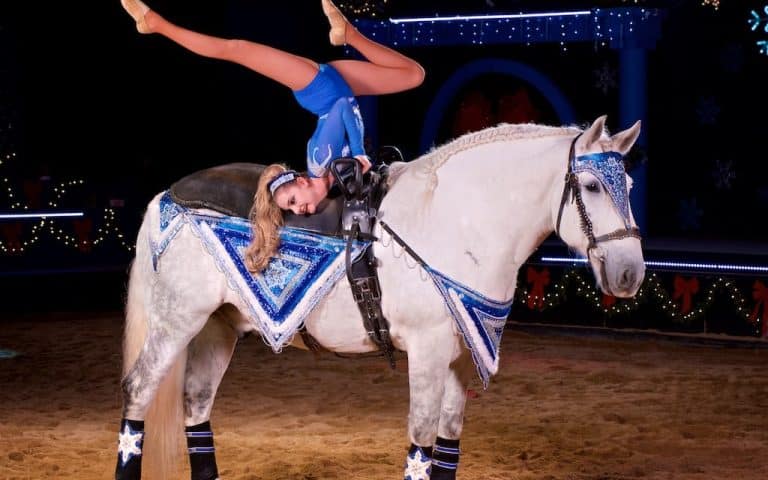 Danette an Danelle, Dana's daughters, produce The Dancing Horses show and offer an amazing animal farm, Animal Gardens.
Come out and see what makes us a consistently awarded Trip Advisor's Travelers Choice!
---
Our Vision
Our show was created from one vision, an infinite love for horses. It is meant to evoke memories that many of us have from childhood. This vision has been beautifully realized.
Our Show
Our show is performed in a state-of-the-art 300-seat theatre and is truly a must-see for any horse lover. It is wheelchair-accessible and fully climate-controlled for all seasons.
Our Team
We are privileged to have an amazing staff of professional trainers, performers and interns. It takes a team of dedicated and hard working individuals to put on this show!